Alumentum is one of the first researchable items. You can throw it like a grenade and it will make a blast that is smaller than that of TNT.
The blast created by throwing alumentum is not strong. It will not destroy any blocks that are tougher than smooth stone. You can harm yourself by throwing alumentum, so be wary when using it in battle. When thrown, it will go approximately 4 blocks, so make sure you are far enough away.
Advanced Uses
Edit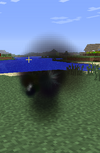 Alumentum can be used essentially like a grenade or a splash potion of instant damage. Simply toss it into a mass of enemies and run. The resulting explosion can be quite deadly, and useful in situations where you don't want to drop down into a cave when you know there are a bunch of monsters on the bottom.

It can also be used as fuel for the furnace. 1 alumentum is the same as 4 pieces of coal, and can smelt 32 items.



Thaumonomicon Entry
Edit
This substance throbs with fiery energy and it is more than eager to release that energy at the slightest bump. It may be unstable, but it would probably make a good source of fuel.
It is probably not a good idea to throw it against a solid surface unless you enjoy explosions.
Research Details
Edit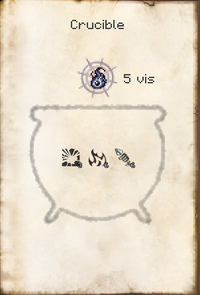 Alumentum is created at a crucible. The essentia cost is 3
Fractus
, 6
Ignis
, and 6
Potentia
, with 5 added Vis from your wand. A good source for those aspects is coal.