General Information
Edit
Amber is a mineral introduced in Thaumcraft 3. It is collected by breaking Amber Bearing Stone. The primary use of Amber is as a researching ingredient but it can also be used in trading with NPC villagers and it can be made into an Amber Block by crafting 4 Amber in a crafting grid (and 4 Amber Blocks to craft 1 Amber Brick).
Mining an Amber block requires an iron pickaxe or better, and drops one Amber.
Amber will have more uses in the future, as stated by Azanor, the creator of Thaumcraft.
Here's a video about Amber:
Other Images
Edit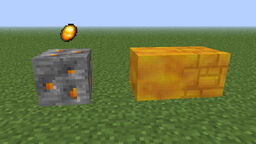 Ad blocker interference detected!
Wikia is a free-to-use site that makes money from advertising. We have a modified experience for viewers using ad blockers

Wikia is not accessible if you've made further modifications. Remove the custom ad blocker rule(s) and the page will load as expected.