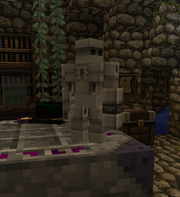 Golem Dart gun:
This device allows you to upgrade your iron golems with an ranged weapon, the golem will fire once upon spotting the Mob and then goes for melee combat while ocasionally using the dart gun.
This is only obtainable from knowledge fragment theories, as well as the other golem accessories.
To craft this accessory you need six arrows, a dispenser and two iron ingots plus the following essentia:
Ad blocker interference detected!
Wikia is a free-to-use site that makes money from advertising. We have a modified experience for viewers using ad blockers

Wikia is not accessible if you've made further modifications. Remove the custom ad blocker rule(s) and the page will load as expected.