Magical Building Blocks
Comments

47
268pages on
this wiki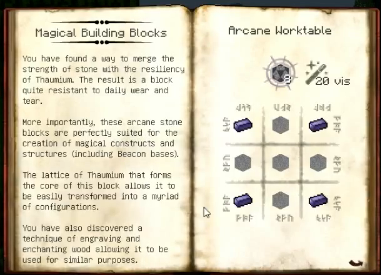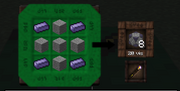 Magical Building Blocks is a research that is unlocked at the beginning after getting the
Thaumonomicon
. It Unlocks the Arcane Wood Blocks, Arcane Stone Blocks, and the
Infusion Altar
.
Thaumonomicon Entry
Edit
"You have found a way to merge the strength of stone with the resiliency of Thaumium. The result is a block quite resistant to daily wear and tear.

More importantly, these arcane stone blocks are perfectly suited for the creation of magical constructs and structures (including Beacon bases).

The lattice of Thaumium that forms the core of this block allows it to be easily transformed into a myriad of configurations.

You have also discovered a technique of engraving and enchanting wood allowing it to be used for similar purposes."
Research Details
Edit
Arcane Stone Blocks are created by placing 4 Thaumium in the corners and 5 Stone in the rest of an Arcane Worktable. Making this recipe creates 8 Arcane Stone Blocks requiring 20 Vis
Arcane Wood Blocks are created by placing 9 of any Vanilla wood or 4 Greatwood Logs in the Arcane Worktable. This crafts 2 Arcane Wood Blocks and 4 Arcane Wood Blocks respectively.
The Infusion Altar is crafted by placing 4 Arcane Stone Blocks on the ground and right clicking with the magic wand. Make sure you place them somewhat close to your crucible so it can use the aspects it provides.