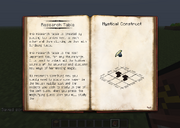 A research table is created by right clicking two
Tables
 placed side-by-side with 
Scribing Tools
. The Research Table is required to perform 
Research
.
While researching, the aspects available for use may change in different ways. If there is a glowing number on the top left of the aspect that means something in the region is giving that much of a bonus to that aspect. If the aspect ever grays out during research that means you have discovered that the aspect in question is definitely not part of this recipe, and should be removed from further tests if possible.
Research is based on three methods. The first two methods can be toggled in the research table with a button (Slot 3). While researching, you can read the description of the research that appears when about half of the aspects required to complete the research are at 100%. This may reveal or hint at the purpose of the research and what aspects are used in it. At 75% completion the remaining aspects will be revealed to you.
Research Bonuses
Edit
Certain blocks can confer a bonus to research. an invisible 21x21x21 block cube surrounds the research table; any block within that cube counts towards the research bonus. The maximum bonus that can be conferred is 5.
Other factors, such as the weather, can also confer bonuses.
Ad blocker interference detected!
Wikia is a free-to-use site that makes money from advertising. We have a modified experience for viewers using ad blockers

Wikia is not accessible if you've made further modifications. Remove the custom ad blocker rule(s) and the page will load as expected.