Tin Transmutation
Comments

11
266pages on
this wiki
You are able to transmute a set of Essentia into Tin using the Crucible. This is useful if you find yourself with a lot of Ore you don't want, and you really want some Tin. Also this is only available when using a mod that has tin.
Thaumonomicon Entry
Edit
You are now able to transform other metals into tin nuggets.
Research Details
Edit
Required Research: Basic Transmutation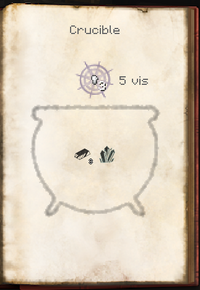 Tin Transmutation requires a Crucible and five vis. Add three Metallum and one Vitreus to the Crucible and right-click.
Do not use Ingots for this recipe if at all possible. Breaking an ingot down into nine nuggets will give you more Metallum overall: 1 Metallum Essentia per nugget, as opposed to 8 per ingot. This will allow you to get a much fairer conversion ratio. 3 Nuggets and a single Glass Pane will net you no waste Essentia, and prevent you from creating any unnecessary Flux during transmutation.