Wizard Tower
is a structure found in NPC villages. The second floor contains a chest with some Thaumcraft items, such as
thaumium
Knowledge Fragments.
the Wizard tower, generally has the Wizard npc nearby. it is a tall structure that can be mistaken for the guard tower upon first sight. They average about 0-1 per village, though in rare cases there can be 2.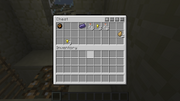 Ad blocker interference detected!
Wikia is a free-to-use site that makes money from advertising. We have a modified experience for viewers using ad blockers

Wikia is not accessible if you've made further modifications. Remove the custom ad blocker rule(s) and the page will load as expected.